ABOUT US
"Human Literacy" for Creative Problem Solving
Creative Edge Focusing ™ Is A Creative Edge Organization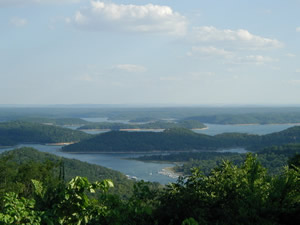 Creative Edge Focusing ™, central office located on Beaver Lake in Northwest Arkansas (home of Wal-Mart), USA, is an organization dedicated to making two "emotional intelligence" skills, Intuitive Focusing and Focused Listening, as basic as reading and writing throughout the world.
Intuitive Focusing and Focused Listening are generic tools of "human literacy". They can be used for creative problem solving by individuals, groups, communities, organizations, and nations.
The simple basic Listening/Focusing skills can be taught in self-help groups for the resolution of interpersonal conflict and the strengthening and deepening of relationships between friends, lovers, parent and child, teacher and student, and among business associates.
Creative Edge Focusing ™ offers consultation to individuals and organizations and training programs for Creative Edge (CE) Focusing Consultants and Experiential Focusing Therapists. Through its non-profit arm, The Human Literacy Center, it collaborates with other foundations and donors to add Listening/Focusing skills to efforts toward sustainability worldwide.
As an organization, Creative Edge Focusing™ models what we teach. We are a Creative Edge Organization, using Creative Edge Focusing Pyramid of skills and methods throughout our organization to maximize creativity and productivity and to minimize conflict. We use PRISMS/S for problem solving, Interpersonal Focusing for conflict resolution, and Collaborative Edge Focusing Decision Making for win/win decisions.
Modeling Collaboration Within Hierarchy
As an organization, Creative Edge Focusing ™ models the Collaborative Edge Focusing Decision Making and Creative Edge Organization methods outlined under Case Studies. Using collaborative methods increases the objective quality of decisions and subjective "ownership" and thus motivation to carry them out. As a bonus, collaborative effort creates an experience of community which increases commitment and mutual support.
Creative Edge Focusing ™ and The Focusing Institute
Creative Edge Focusing™ as an organization has been greatly influenced by The Focusing Institute in New York, the international organization for the teaching of Eugene Gendlin's philosophical work and his classic version of Focusing (Focusing, Bantam, 1981).
Dr. McGuire did her dissertation under Dr. Eugene Gendlin at The University of Chicago, receiving the Ph.D. in 1975. She was a certified Focusing Trainer, a Regional Coordinator, and a Certifying Coordinator for The Focusing Institute in New York. Dr. McGuire has the deepest respect for the work of The Focusing Institute and heartily recommends visiting its website, featured in our Free Resources area , especially to find initial training in Focusing and Listening from certified Focusing Professionals in your own geographic location, country, and language.
Creative Edge Focusing ™ represents Dr. McGuire's unique emphasis upon the interpersonal aspects of Listening and Focusing as exemplified in her manual, Building Supportive Community: Mutual Self-Help Through Peer Counseling, 1981, now titled Focusing In Community: How To Start A Listening/Focusing Support group (Focusing en Comunidad en espanol):
the creation of Focusing Partnerships, Focusing Groups/Teams, and Focusing Communities for the mutual exchange of Listening/Focusing turns
the use of Interpersonal Focusing to resolve conflicts between individuals and in groups
the application of Listening and Focusing to task-oriented group problem solving and organizational development.
You can find further training in these applications of Creative Edge Focusing ™ through:
Dr. Kathy McGuire, Director, CEO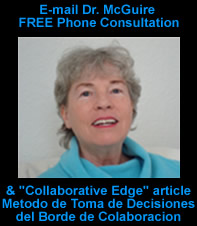 I am Dr. Kathy McGuire
I have been a leader all my life. Out of five siblings, and as a middle child, I was the one elected to approach our dad each week to get our allowance. I was the "trustworthy, responsible one" selected to baby sit the youngest. I started the Baton Twirling Squad at my elementary school. I was elected leader of my area at Girl Scout Summer Camp every year. I served as Chair of The Girls Club in my high school. I began building supportive communities of peer counselors early in my graduate school career. I have served on the Board of a number of non-profit organizations.
After attending Mount Holyoke College, I graduated with the Ph.D. in Clinical Psychology from the University of Chicago in 1975. Eugene Gendlin, creator of the self-help skill Focusing, (Focusing , Bantam, 1981) chaired my dissertation on improving the quality of decisions by integrating Focusing and Listening into task-oriented groups. Dr. Gendlin had himself been a student of Carl Rogers, creator of "empathic listening" and Client-Centered Therapy.
I have continued my interest in win/win decision making and conflict resolution at the interpersonal, group, and international level since that time. I have served on the Board for several non-profit organizations, focusing upon models for creative problem-solving and win-win decision-making.
I have presented workshops in the USA and in Europe. I am a Certifying Coordinator and a Certified Trainer for The Focusing Institute in New York.
I spent twenty-five years in practice as a clinical psychologist and psychotherapist. I bring to organizational consulting my skills as a psychotherapist. I am especially expert in dealing with personality issues, interpersonal conflicts, and complicated group and organizational dynamics. I have also worked extensively with support groups and community building.
I have written numerous articles and two manuals, Focusing In Community: How To Start A Listening/Focusing Support Group (Focusing en Comunidad) and The Experiential Dimension in Therapy.
For thirty-five years, as my passion, I have been teaching two simple self-help skills, Intuitive Focusing and Focused Listening, to individuals, couples, parents, support groups, communities, and in business and other decision-making settings. Intuitive Focusing and Focused Listening are a kind of emotional and interpersonal literacy as profound as reading and writing. These simple skills can increase happiness, intimacy, creativity, and productivity across the board.
I am also interested in the spiritual value of the community created when Intuitive Focusing and Focused Listening are used to breakdown prejudices and stereotypes and create true understanding between people. I have created Listening/ Focusing Communities where ever I have moved for the past thirty years, for my own emotional support and friendships as well as a gift to my communities.
As creator of Creative Edge Focusing Pyramid of skills and methods, I am committed to bringing Intuitive Focusing and Focused Listening skills to every person, every place. Some of my favorite initiatives, found in our Interest Areas sidebar,
My Life Experiences Biography links my Interest Areas to life-shaping events since beginning graduate school, including the Vietnam War and Kent State Massacre, the rise of feminism, the experience of supportive community, parenting of an adopted child with ADHD, and a wonderful "conscious relationship" with my second husband. More...
My ancestors combined a pioneering entrepreneurial spirit with a belief in education. My father's distant ancestor, William Cheesebrough, came to America in 1632 and founded Stonington, CT. My grandmother, Edith Garfield Cheesebrough, attended Cornell University from 1901-1905. Risking disinheritance, she met and eventually married Irish-immigrant, Ph.D.-student Peter S. McGuire.
My father became a protégé of John Kenneth Galbraith and did graduate studies at Harvard and Princeton. He worked with the State Department as an economic advisor, consulting in the reconstruction of Turkey and Greece after World War II.

My mother's ancestors came from Norway to the Great Plains, and struggled as farmers, ranchers. After The Dust Bowl blew away their land, they survived as migrant and factory workers.
The oldest of ten children, my mother shepherded her flock of siblings through orphanages when her mother entered a Tuberculosis Sanitorium. She won a scholarship to the University of Chicago, but finances led her to a teaching degree at Milwaukee-Downer College nearer to home.
My parents became leaders in both for-profit and not-for-profit organizations.
My father, Paul F. McGuire, served as Chairman of the Chicago Board of Trade for several terms and was a co-founder of The Chicago Board of Options Exchange (CBOE).
My mother, S. Annabelle Leverson McGuire, was a co-founder of The National Alliance for the Mentally Ill (NAMI), one of the first organizations supporting the mentally ill and their families. See my Life Experiences Biography to see how my own life experiences shaped my Interest Areas and writings.
I live beside beautiful Beaver Lake, in Northwest Arkansas (home of Wal-Mart), USA. My husband, Marinus "Rien" Bouwman, teaches Accounting at the Sam Walton College of Business at the University of Arkansas. You can come enjoy our lake at the Core Skills Residential Intensive.
Now that you know all about us and our programs, please visit our Store to stock up on self-help materials, coaching/consulting, or to join our training programs NEXT>>>
---
Want to learn more about Focused Listening and Intuitive Focusing?
---
These materials are offered purely as self-help skills. In providing them, Dr. McGuire is not engaged in rendering psychological, financial, legal, or other professional services. If expert assistance or counseling is needed, the services of a competent professional should be sought.